Issue #52 — Pocket
Friday 13 June 2014
Welcome to Issue #52
This brings our first year to an end. Thanks to all who've supported us over the last 12 months – we've both come a long way since then. Ryan's had two successful crowdfunding campaigns for his motor board and robot kit, and Ben moved from Manchester to Cambridge to join the Foundation where he overhauled the Raspberry Pi website.
Today we have a huge bumper issue in store for you – plenty of links and a whole host of upcoming Jams!
Read all about how Pi Weekly got off the ground in this article Ben wrote back in October: Pi Weekly: Evolution, MVP and my Dream Job, go back and take a look at our very first issue: #1 – Seed, and have a browse through our extensive Archive!
…Or see them all here: Seed, Growth, Picturesque, Microwave, Bicycle, Lumberjack, Science, Rewired, Festival, Mario, Stratos, Party, Berlin, Pneumatic, Minecraft, BMO, Million, Infrared, Pumpkinry, Japan, Moustache, Woz, Manchester, Fashion, Cambridge, Hipster, Postal, Actually, Bumblebee, Dalek, Astronaut, Danger, Panflute, Belgium, Africa, Cannon, Jamboree, Opening, Slash, Academy, Makey, Life, Compute, Maynard, Telephone, Heston, Dinosaur, Ronald, Ambiance, Usage, Lemsip!
Ben ran short workshops with Lance and Clive for a CodeClub event yesterday, where kids got a taster of different programming environments and technologies.
Also this week Ryan turned 18 and Ben got a new t-shirt. Apt as Pycoders Weekly was the main inspiration for Pi Weekly!
Brilliant news this week as the Foundation announced hitting the 3 million sales mark – casually slipped in to a post about presenting the Raspberry Pi at Buckingham Palace.
Here's looking ahead to Issue #104!
Ben & Ryan
---
Picture of the week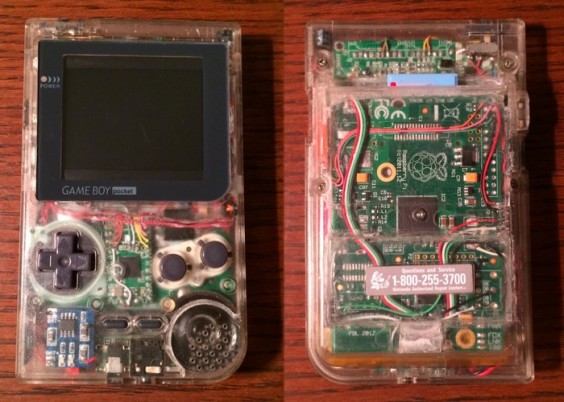 Slotting a Raspberry Pi inside the slender GameBoy Pocket casing to reincarnate it as a new type of games console
---
News
---
Projects
---
Articles & more
---
Upcoming Events
raspberrypi.org/jam
---
Contact & Submissions
This newsletter is curated by @ben_nuttall. Tweet links to @rpf_weekly or email weekly [at] raspberrypi.org
---
Like the look of this newsletter? Sign up to Pi Weekly now:
---