Issue #4 — Microwave
Friday 12 July 2013
Hi everyone
Firstly we'd like to congratulate Jason Barnett on successfully funding his Motor Board kickstarter this week – smashing the original £1,500 goal and hitting five stretch goals (the last one promising to donate 50 boards to schools around the world!) totalling £7,790 from 301 backers! An amazing achievement – especially as the highest reward pledge was just £25.
There have been some truly great projects come out of the Raspberry Pi community. It's opened up so many people's eyes to a world of discovery, invention, creativity and sharing. The focus is on learning, and the best motivation to learn something new is the desire to achieve something incredible by making an idea come to life.
In the information age, ideas are formed by means unimaginable to previous generations – a thread on Reddit one day leads to a programmable microwave the next. And with the Raspberry Pi being Linux based, more and more people are being introduced to free software culture, which not only means avoiding license fees, but also the concept of sharing ideas, sharing code and collaborating on projects and ideas.
Hope you enjoy this week's issue!
Ben & Ryan
---
Picture of the week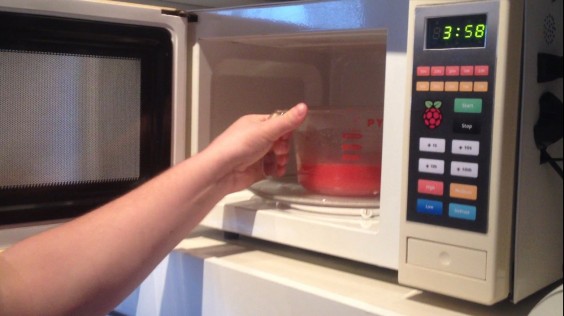 Redditor Nathan Broadbent cooks a Raspberry Pie with his Raspberry Pi microwave
---
News
---
Projects
---
Articles & more
---
Contact & Submissions
This newsletter is curated by @ben_nuttall. Tweet links to @rpf_weekly or email weekly [at] raspberrypi.org
---
Like the look of this newsletter? Sign up to Pi Weekly now:
---