Issue #40 — Academy
Friday 21 March 2014
Hi all
This week the Foundation Education team announced a free professional development workshop for primary and secondary teachers, to be led by Carrie Anne and run at Pi Towers in Cambridge.
James Hughes – a Broadcom engineer who works on the camera software in his spare time – this week released code to allow video to be captured at 90 frames per second – and people sent in videos they'd made in these modes, which are quite incredible!
Linux Voice Issue 2 is out now – it features kernel module development, building a Raspberry Pi arcade, a section on Grace Hopper and an interview with 3/4 of the Foundation's education team: Ben, Clive and Carrie Anne, conducted at the Jamboree.
Ryan's budget robot kit fundraiser hit its £1000 target in under 24 hours – and now sits at over double that. Meanwhile, kickstarter success guru Alex Eames has announced he's bringing out three new add-on boards through RasP.iO, who we welcome as sponsors this week.
Ben & Ryan
---
Picture of the week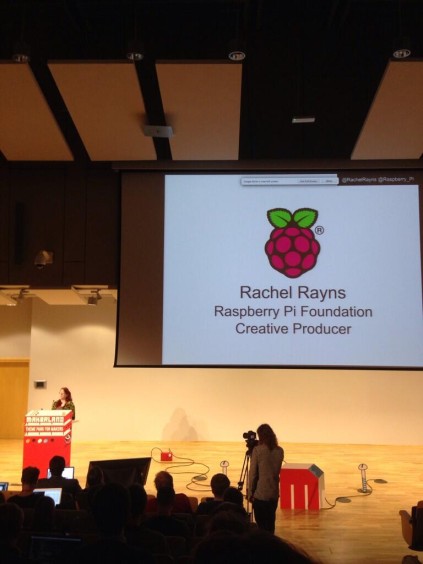 Raspberry Pi's Creative Producer Rachel Rayns speaking at Makerland conference in Warsaw, Poland
---
News
---
Projects
---
Articles & more
---
Upcoming Events
raspberrypi.org/jam
---
Thanks to our sponsor

Never count pins again with the large, clear port labels on RasPiO port labels board
http://rasp.io/ports/
Connect Male or Female wires to any port with RasPiO Breakout, (and detach projects from your Pi without wrecking your wiring)
http://rasp.io/breakout/
Protect your ports from wiring errors with RasPiO Breakout Pro
http://rasp.io/breakoutpro/
---
Contact & Submissions
This newsletter is curated by @ben_nuttall. Tweet links to @rpf_weekly or email weekly [at] raspberrypi.org
---
Like the look of this newsletter? Sign up to Pi Weekly now:
---