Issue #21 — Moustache
Friday 8 November 2013
Hi there
Congratulations to Alex of Raspi.TV and Cyntech for successfully funding their kickstarter project HDMIPI – the 9″ HD screen for the Raspberry Pi. They hit their overall target of £55,000 in just over two days! They're still taking pledges – and will be adding some stretch goals to offer even more. You can still pledge to receive a screen for as little as £75 – or more for extra kit. They're now at an amazing £135,000! It's also been featured by the Telegraph and the Guardian.
Last weekend Ben attended Maths Jam – an annual event near Stone, where he socialised with 140+ maths enthusiasts. It's a gathering for sharing recreational mathematics – and involves two days of 5-minute talks (interestingly the first two talks both mentioned Raspberry Pi). As well as talks, puzzles, tricks (and that old fashioned pen-on-paper thing), there was plenty of Rubik's cubing and juggling – and traditionally, the combination. Ryan is getting ready to announce and launch his first product soon.
On Saturday we saw Eben Upton and Amy Mather talk Raspberry Pi on Newsround – along with some kids talking about programming in schools. Speaking of Eben, we should point out that he's growing a moustache for Movember – to raise money for men's mental health. Please consider donating. And back to Amy – she just won the Digital Girl of Europe award at ICT 2013 in Vilnius, Lithuania.
This week we welcome Ciseco as our sponsors for November – thanks to them for their support of the newsletter.
Ben & Ryan
---
Picture of the week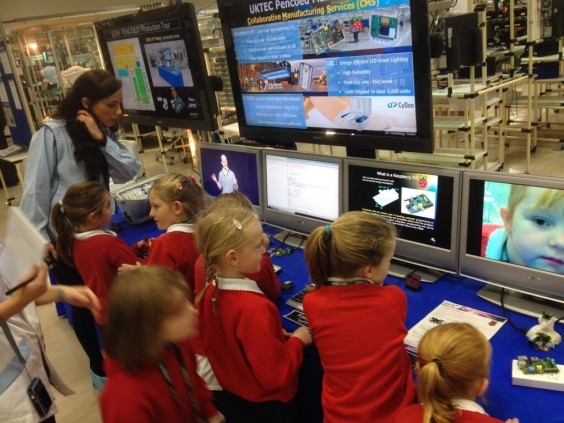 inPractice.org took a group of 20 girls (age 6) to see how the Raspberry Pi is made at the Sony Pencoed facility in South Wales
---
News
---
Projects
---
Articles & more
---
Upcoming Events
raspberrypi.org/jam
---
Thanks to our sponsor

Ciseco are a bunch of UK geeks who love to put wireless into or on anything. They manufacture out of Nottingham a range of radio devices and electronics development hardware for the Raspberry Pi and other electronics platforms.
---
Contact & Submissions
This newsletter is curated by @ben_nuttall. Tweet links to @rpf_weekly or email weekly [at] raspberrypi.org
---
Like the look of this newsletter? Sign up to Pi Weekly now:
---