Issue #20 — Japan
Friday 1 November 2013
Hi everyone
So we have some pretty big news this week – we can announce that Ben will be moving to Cambridge to work for the Raspberry Pi Foundation! He's super excited about it and is looking forward to devoting more time to Pi! He'll be doing all sorts – including web development, education and outreach. See Ben's original announcement on Twitter and some kind replies from supporters.
At the weekend Ben visited London for the Mozilla Festival at Ravensbourne by the O2 Arena where he hung out with Carrie-Anne Philbin and Alex Bradbury and caught up with plenty of others, including Sam Carlisle, Alan O'Donahoe and Ashley Williams.
Ben also did quite a lot of work on the Pi Weekly site – notably a new look for the archive page, now featuring images, also implemented on the homepage. Also, starting with this issue, we're introducing a new feature to the newsletter – upcoming events! So if you know of any Raspberry Jams or similar events coming up – email or tweet us the link and info for inclusion.
Tickets for Ben's last Jam before he leaves Manchester sold out in record time. No doubt the special guests attending – including Liz & Eben Upton, Pete Lomas, Clive Beale, Dave Akerman, Andrew Robinson (and of course, Ryan) – all offering talks, helped ticket sales!
Ryan has just been working on some college work this week and also ran the Stevenage Jam.
Thanks again to Pimoroni – our brilliant sponsors for this month :)
Ben & Ryan
---
Picture of the week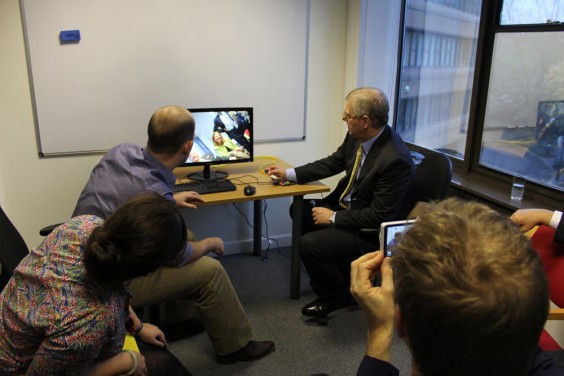 HRH the Duke of York, in his role promoting and raising awareness of British science, engineering and technology expertise.
He's also Patron of Code Club, and had lots to discuss with the Foundation about their educational mission.
---
News
---
Projects
---
Articles & more
---
Upcoming Events
raspberrypi.org/jam
---
Thanks to our sponsor

Pimoroni are a company of Makers and Educators.
They make the Pibow case, the PiGlow and PiHUB in their workshop in Sheffield, UK.
At weekends they strap motors onto their laser cutters and race them around the workshop.
---
Contact & Submissions
This newsletter is curated by @ben_nuttall. Tweet links to @rpf_weekly or email weekly [at] raspberrypi.org
---
Like the look of this newsletter? Sign up to Pi Weekly now:
---