Issue #37 — Jamboree
Friday 28 February 2014
Today is the last day before Raspberry Pi's birthday. Tomorrow is the day after Raspberry Pi's birthday.
Ben and Ryan are at the Jamboree in Manchester! This is day two of the event and it continues tonight with the birthday party, and over to Edge Hill in Ormskirk for the Jam Hack Day. Earlier this week, Ben gave a Pi talk to Master's students at Hyper Island, a creative digital school (slides here).
Ben gave a Python picamera workshop with Dave Jones yesterday, and gave the opening keynote this morning with Carrie Anne and BJn, with their talk Pioneering the future of Computing Education (slides here) announcing some developments the Foundation are working on, like the features of the new website. He'll also be taking part in a panel discussion on Raspberry Jams.
Ben & Ryan
---
Picture of the week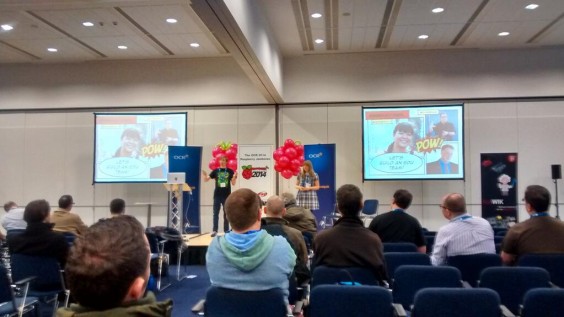 Ben and Carrie Anne give their opening address at the Raspberry Jamboree
---
News
---
Projects
---
Articles & more
---
Contact & Submissions
This newsletter is curated by @ben_nuttall. Tweet links to @rpf_weekly or email weekly [at] raspberrypi.org
---
Like the look of this newsletter? Sign up to Pi Weekly now:
---