Issue #43 — Compute
Friday 11 April 2014
Hi all
This week, the Foundation announced a new forthcoming product: the Raspberry Pi compute module, aimed at industrial users. This is a Raspberry Pi module the size and form of a stick of RAM which slots in to an IO board (or you can build your own). This will allow people to use the Raspberry Pi's SoC at the heart of an affordable dev board or use an array of the modules in a supercomputer.
Yesterday, the Foundation put out a second animation from the team at Saladhouse: Setting up your Raspberry Pi – voiced by Johnny Ball! It's an excellent video where Johnny points out all the vital components of the Pi, and how to get connected. This now lives on the Quick Start page in the Help section of the new website.
Amy Mather has spent all week doing work experience at Raspberry Pi, where she built projects and games, wrote documentation and learning resources and worked with the team.
Next week the Picademy (free CPD for teachers run by Carrie Anne and the Education team) takes place at Pi Towers. This one is a pilot for educators already involved in the Pi community, and more events are planned to reach a wider audience.
Ben & Ryan
---
Picture of the week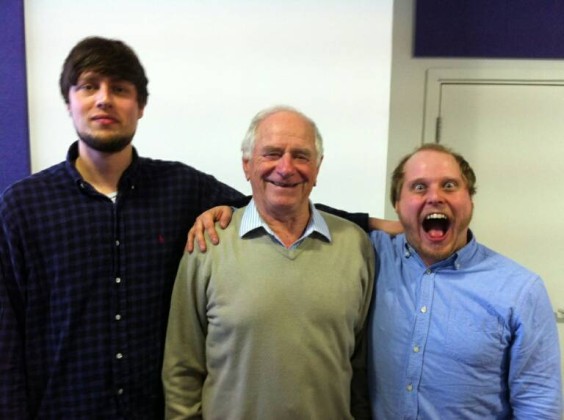 Scott (left) and Sam (right) from Saladhouse with Johnny Ball on the day of recording for the animation
---
News
---
Projects
---
Articles & more
---
Thanks to our sponsor

Never count pins again with the large, clear port labels on RasPiO port labels board
http://rasp.io/ports/
Connect Male or Female wires to any port with RasPiO Breakout, (and detach projects from your Pi without wrecking your wiring)
http://rasp.io/breakout/
Protect your ports from wiring errors with RasPiO Breakout Pro
http://rasp.io/breakoutpro/
---
Contact & Submissions
This newsletter is curated by @ben_nuttall. Tweet links to @rpf_weekly or email weekly [at] raspberrypi.org
---
Like the look of this newsletter? Sign up to Pi Weekly now:
---