Issue #23 — Manchester
Friday 22 November 2013
Hi there
Last weekend Ben and Ryan finally got the chance to meet at Manchester Raspberry Jam XVI at Madlab – Ben's last Jam before he moves to Cambridge (also his 25th birthday)! This was well attended event, featuring special guests Liz & Eben Upton, Pete Lomas, Clive Beale, Dave Akerman, Alan O'Donahoe, Freaky Clown, Andrew Robinson and Paul Beech.
Everyone had a great time at the Jam – there was hacking as usual downstairs, and a full track of talks upstairs. Ben opened with a news, announcements and projects presentation, and was followed by talks and demos by a number of local Pioneers as well as those who had travelled for the occasion.
Also, during a Foundation panel Q&A at the Jam, Eben announced that they had reached the 2 million milestone! It's not long since they announced the 1 million made in the UK – and now 2 million overall.
We have a couple of new kickstarter campaigns to announce – and news that Ryan's crowdfunded mini budget motor board (featured on the Raspberry Pi website) successfully reached its goal.
Remember Eben is raising money for men's health by growing a moustache for Movember. Please consider donating to the cause.
Ben & Ryan
---
Picture of the week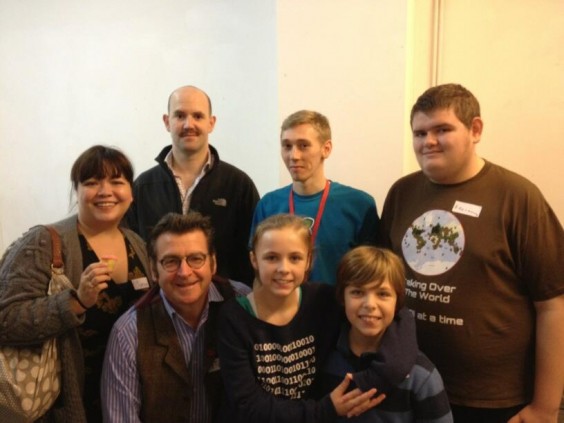 Liz Upton, Eben Upton, Ben Nuttall, Ryan Walmsley, Pete Lomas, Amy Mather and Dan Mather at Manchester Raspberry Jam XVI
---
News
---
Projects
---
Articles & more
---
Upcoming Events
raspberrypi.org/jam
---
Thanks to our sponsor

Ciseco are a bunch of UK geeks who love to put wireless into or on anything. They manufacture out of Nottingham a range of radio devices and electronics development hardware for the Raspberry Pi and other electronics platforms.
---
Contact & Submissions
This newsletter is curated by @ben_nuttall. Tweet links to @rpf_weekly or email weekly [at] raspberrypi.org
---
Like the look of this newsletter? Sign up to Pi Weekly now:
---