Issue #16 — BMO
Friday 4 October 2013
Hi everyone
We have been overwhelmed with news to report this week. Starting with the most important, you'll be glad to know that Ben's Raspberry Pi did, in fact, survive the washing machine. After drying it out for two days in a jar of rice, he booted it successfully. Great to know that the Pi can stand being submerged in 40° water for a couple of hours.
In other news, we have a new release of Raspbian – including Sonic Pi, improved Scratch, PyPy, PiFace Python libraries and Oracle's JDK (Java), and we've got a new version of NOOBS, which was in Beta last week – now fully released at v1.3.
Yesterday, Clive Beale from the Raspberry Pi Foundation was on BBC television with Emma Mulqueeny from Young Rewired State, both talking about the opportunities we're giving to kids by providing them with a Raspberry Pi or teaching them the basics in Scratch or some programming language, and what they will soon pick up like second nature. Here's a brilliant video showing Madlab's involvement in the Young Rewired State Festival of Code earlier this year – just shows how inspiring young people can be with guidance and collaboration. Amazing things can happen!
We also spotted a fantastic project last night – someone made the Adventure Time character BMO (pronounced beemo), who takes the form of a personified GameBoy-like hand-held games console, a reality by building one from lego and bringing it to life with a Raspberry Pi and miniature LCD screen! Very cool indeed. Algebraic, one might say.
Ben will be helping out at the PHPNW conference in Manchester this weekend, kicking off what will be an event filled October. Meanwhile, Ryan's planning to crack on with the RPiDNS client for Raspbian.
Just for fun: Can you JavaScript under pressure? Try this web app – you have five functions to write while the clock ticks.
Live long and prosper
Ben & Ryan
---
Picture of the week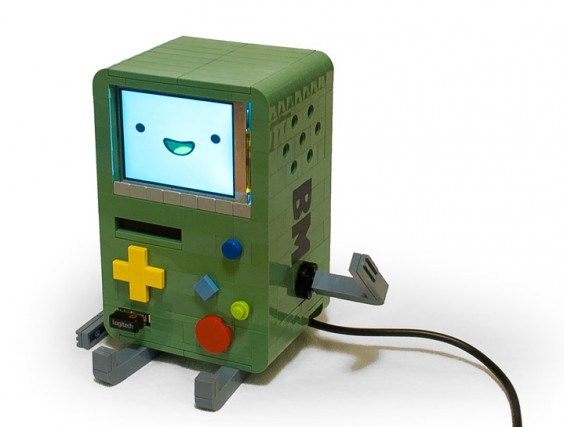 Software developer Michael Thomas created this wonder for BrickCon 2013.
"I came up with the idea a few months ago. I had purchased a Raspberry Pi and was trying to come up with interesting unique projects to make use of it. Being a fan of Lego, I'm also always looking for creative Lego builds to take on. I had seen some other Raspberry Pi Lego cases, and I knew the two fit well together. Around that time, I was also just starting to watch episodes of 'Adventure Time.' It was hard not to enjoy Finn and Jake's lovable electronic companion, BMO. It didn't take much at that point to decide that I should attempt to bring BMO to life, with Lego skin and a Raspberry Pi heart."
---
News
---
Projects
Wireless Smoke Alarm (safefiredirect.co.uk)
Build a smoke alarm that sends an email and text message when it goes off
The Fortune Teller (bigl.es)
A fortune telling machine constructed by Les Pounder with Python and PiFace
Car PC Project (engineering-diy.blogspot.ro)
Make your own car PC with a Raspberry Pi, GPS, mini touchscreen and a camera
---
Articles & more
---
Contact & Submissions
This newsletter is curated by @ben_nuttall. Tweet links to @rpf_weekly or email weekly [at] raspberrypi.org
---
Like the look of this newsletter? Sign up to Pi Weekly now:
---