Issue #18 — Infrared
Friday 18 October 2013
Hi everyone
This week Ben visited the Raspberry Pi Foundation at their offices in Cambridge – where he got to meet Liz, Clive, Lance, Gordon and the team. This weekend he'll be meeting up with resident artist Rachel Rayns at free culture unconference Oggcamp in Liverpool, where he'll be running Raspberry Pi demos and attending free software talks. Ryan has been working with David Whale to train some students on how to use the Raspberry Pi as well as working on a new project alongside RPiDNS.
Pi community superstar and Google certified teacher Carrie Ann Philbin has had her new book Adventures in Raspberry Pi released – you can preorder on Amazon – and we highly recommend you do! It's a bargain at £8.25!
The Foundation just announced a new product – the infrared camera. It's something people have been asking for, for projects such as wildlife photography – and now the Foundation are committed to making them!
Also, one of Ben's friends from the Manchester tech community, Dave Jones, has developed a pure Python interface to the Raspberry Pi camera module. It's a really nice, really simple way of using the camera – you just import the picamera module and you can control the camera settings with simple Python commands. An easy install – so give it a try!
Enjoy!
Ben & Ryan
---
Picture of the week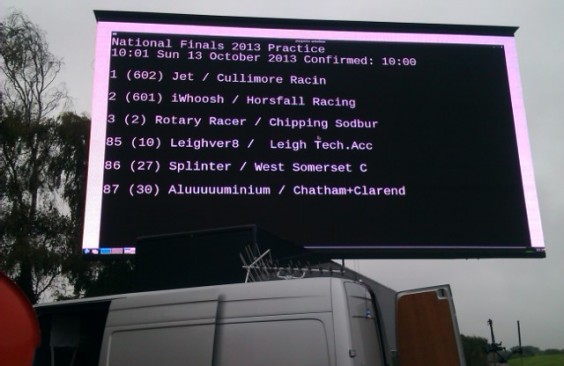 One of the world's biggest displays being powered using a Raspberry Pi to display race data at Greenpower by David Whale
---
News
---
Projects
---
Articles & more
---
Thanks to our sponsor

Pimoroni are a company of Makers and Educators.
They make the Pibow case, the PiGlow and PiHUB in their workshop in Sheffield, UK.
At weekends they strap motors onto their laser cutters and race them around the workshop.
---
Contact & Submissions
This newsletter is curated by @ben_nuttall. Tweet links to @rpf_weekly or email weekly [at] raspberrypi.org
---
Like the look of this newsletter? Sign up to Pi Weekly now:
---