Issue #24 — Fashion
Friday 29 November 2013
Hi everyone
This has been a busy week for Ben as he prepares to move to Cambridge tomorrow – while Ryan's Motor Board Kit fundraiser finished yesterday with 138 kits sold.
Ben also helped out at a Raspberry Pi workshop at Madlab – run for Manchester Girl Geeks, by Mathew from Kano. The Kano kickstarter had already smashed its funding target by that point – and it gave them a chance to show what the kit can be used for.
We've seen lots of discussion of Mathematica on the Pi – including a brilliant set of benchmark tests from Ben's friend Mike Croucher.
Remember to check out Eben's Movember progress – and it's your last few days to donate.
Ben & Ryan
---
Picture of the week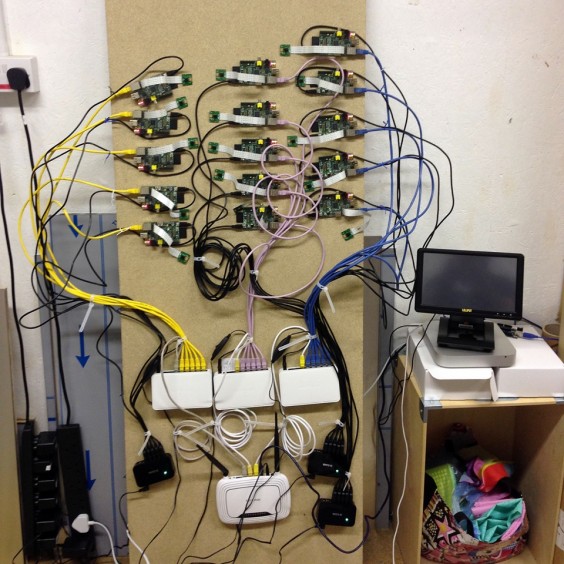 The test rig of fifteen cameras firing simultaneously for the Magic Mirror photobooth at the Fashion Week with The Body Shop
---
News
---
Projects
---
Articles & more
---
Upcoming Events
raspberrypi.org/jam
---
Thanks to our sponsor

Ciseco are a bunch of UK geeks who love to put wireless into or on anything. They manufacture out of Nottingham a range of radio devices and electronics development hardware for the Raspberry Pi and other electronics platforms.
---
Contact & Submissions
This newsletter is curated by @ben_nuttall. Tweet links to @rpf_weekly or email weekly [at] raspberrypi.org
---
Like the look of this newsletter? Sign up to Pi Weekly now:
---