Issue #47 — Dinosaur
Friday 9 May 2014
Hi all
We hope you enjoyed the bank holiday weekend.
Yesterday the Foundation announced two upcoming dates for Picademy – free CPD for teachers. These will be two-day events in June and July – applications now open to teachers in the UK. With this announcement came a video of the first Picademy.
There's been an update to Arch Linux – available from the Raspberry Pi downloads page. This update bumps NOOBS to v1.3.7. XBMC core is now at v13.0 (Gotham) but the update has yet to make it to the Pi distribution images.
Also this week, friend of Pi Dr. Tom Crick from Cardiff Metropolitan University was interviewed for the Wales Report on BBC about the Raspberry Pi and the Welsh Computing Curriculum.
Tomorrow is the CamJam – Ryan will be along but Ben cannot make it as he's away for the weekend. Hope everyone has fun! More Jam listings below – remember to tweet us or email us with your Jam dates.
Ben & Ryan
---
Picture of the week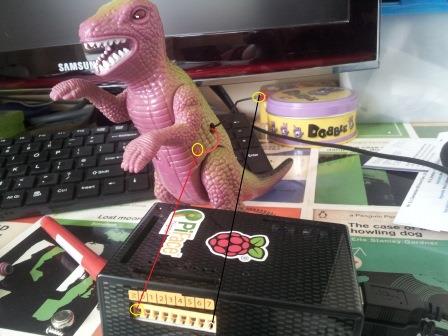 Dan Aldred's PiFace powered roaring dinosaur from Marks and Spencer's
---
News
---
Projects
---
Articles & more
---
Upcoming Events
raspberrypi.org/jam
---
Contact & Submissions
This newsletter is curated by @ben_nuttall. Tweet links to @rpf_weekly or email weekly [at] raspberrypi.org
---
Like the look of this newsletter? Sign up to Pi Weekly now:
---